CertificationKits is pleased to offer to you completely free our own TFTP Server that you can download and use to help you prepare for your Cisco certification exams! Upgrading and backing up your IOS is one of the key concepts on the Cisco CCNA certification exam. So you need to know it inside and out. This ulitity will help you understand and verify that you know how to perform a Cisco IOS Upgrade! Not only that, but you can use this TFTP Server to also backup your configuration files from your Cisco router to a single location. A router crashes and no one documented the config? You come to the rescue with the backup of the config you saved to the TFTP Server!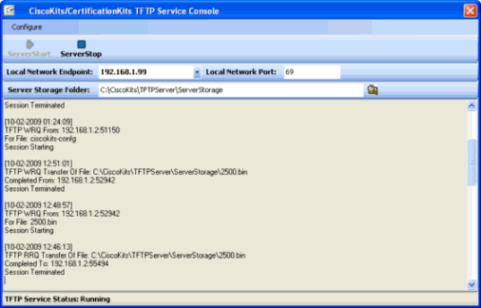 What is really great about this TFTP Server is that it is multi-threaded so you can upload and download IOS images and configurations to your Cisco routers and Cisco switches. The TFTP Server will run on most Microsoft Operating Systems such as Windows 95, XP, Vista, 2000, 2003 and 7. Most others charge for their TFTP Servers, but we are giving our TFTP Server away for free!
You can download our TFTP Server from the link below while you review it's many features below.
Multi-threaded – enables you to concurrently upload and download images from multiple network devices. This powerful TFTP Server feature saves valuable time when managing a complex network with many devices.
Runs as a Service – optionally runs as a service to deliver 24 x 7 TFTP Server availability for your entire network.
Transfers Files Larger than 32MB – supports the option negotiation protocol (transfer size, block size, timeout) described in the current TFTP protocol specifications. This enables transfer of files up to 4GB via the free TFTP Server, which allows you to transfer the latest IOS or firmware versions without issue.
We are sure you will find this tool quite useful in your Cisco certification studies. So feel free to tell your friends about our Free TFTP Server so they too can pass their Cisco certification exam!