Here at CertificationKits we want to make sure you get the most value out of the Cisco equipment in your certification lab and it can grow with you as you progress in your Cisco certification studies from CCNA to CCNP to CCIE! So we developed this one of a kind, innovative program to help you called the CertificationKits Trade-up program to assist you in building your Cisco Certifcation lab.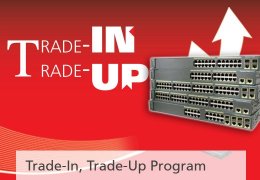 Any Cisco router or Cisco switch you purchase from CertificationKits is eligible* for our Trade-up program. So how does it work? I am glad you asked!
You purchase any Cisco router or Cisco switch from us. This can be an individual router or switch or one that is a part of a CCNA, CCNP or CCIE kit. Then a month or maybe six months later you decide, "Hey, I don't want this Cisco 1841 router anymore. I want to trade it in for a Cisco 1941 router!". We will then allow you to receive the full current selling price (*this cannot exceed what you originally paid for the device) of that unit toward the purchase of another unit. How cool is that?
We are committed to help you meet your Cisco Certification goals and we understand you may not always be able to buy the biggest and best equipment from the start. Now tell me any other Cisco Certification reseller who would dare to offer a program such as this. Just another example of how we strive to be the best in the Cisco Certification business.
*Subject to the following: The Cisco switch or router is verified it was purchased from CertificationKits 9/1/08 or after and it is a unit which we are currently stocking. The buyer pays for shipping to and from CertificationKits of the item being Traded-up. CertificationKits verifies the unit received from the buyer is in 100% working order. This process may take up to 10 working days after receipt of the unit. Current selling price is determined on the day it is deemed 100% working as refurbished equipment pricing fluctuates. The unit being purchased must retail for 50% more than the selling price of the product being Traded-up.
Example: A Cisco Switch with the retail price of $99.99 is being Traded-up. The new item being purchased must retail for a minimum of $149.99. The buyer will pay shipping for the new shipment. Special order items are not eligible for this offer. Equipment that is not sent in advance must be returned within 15 business days of receiving the new devices. Equipment not returned within this time period is subject to a 25% restocking fee. We reserve the right not to accept trade-ups being sent in past 30 days and send devices back to the customer at their expense.
Recent models we are no longer stocking:
1900 Switches 9/1/09
3640 Routers 9/1/09
3620 Routers 9/1/09
2500 Series Routers (Not including access servers 2509, 2511) 5/12/2017
1760 Routers 5/12/2017
2610(non-XM) Routers 9/1/09
2620(non-XM) Routers 1/31/10
2600XM and 2600 (non-XM) series Routers 5/12/2017
2912/24 Switches 1/25/12
2950, 2950C, 2950T, 2960G Switches 5/12/2017