We here at CertificationKits are proud to provide the best CCNA Exam Prep Guide on the internet, free!  The guide you will find below is similar to the materials you would find at any CCNA boot camp course out there.  There are over 700 pages of free CCNA 200-301 content available to you here; covering topics ranging from IP addressing and subnetting, Cisco IOS licensing and management, to Access Control Lists, VPNs, and troubleshooting.  To get access to the most current and complete materials, check out our CertificationKits CCNA 200-301 BootCamp & Theory eBook and our Cisco CCNA 200-301 Lab eWorkbook.
Each page follows a similar format, there will be a diagram at the top to help describe the subject at hand and a narrative following to explain the subject in great detail.  This tool is a great way to improve your CCNA studies.  Because there is so much content provided here, we have broken it down into logical sections or chapters, providing the same experience as-if you were attending a CCNA boot camp in-person…  just dramatically more affordable!
As you scroll down, you will find links to free CCNA Exam Study material in each subject area of the CCNA Exam.  The material below could keep you coming back for weeks to continue your studies for the Cisco CCNA Exam.  We hope you enjoy and find the content useful.  For even more complete and thorough Cisco Certification Exam bootcamp materials check out our highly regarded CCNA Study Value Pack.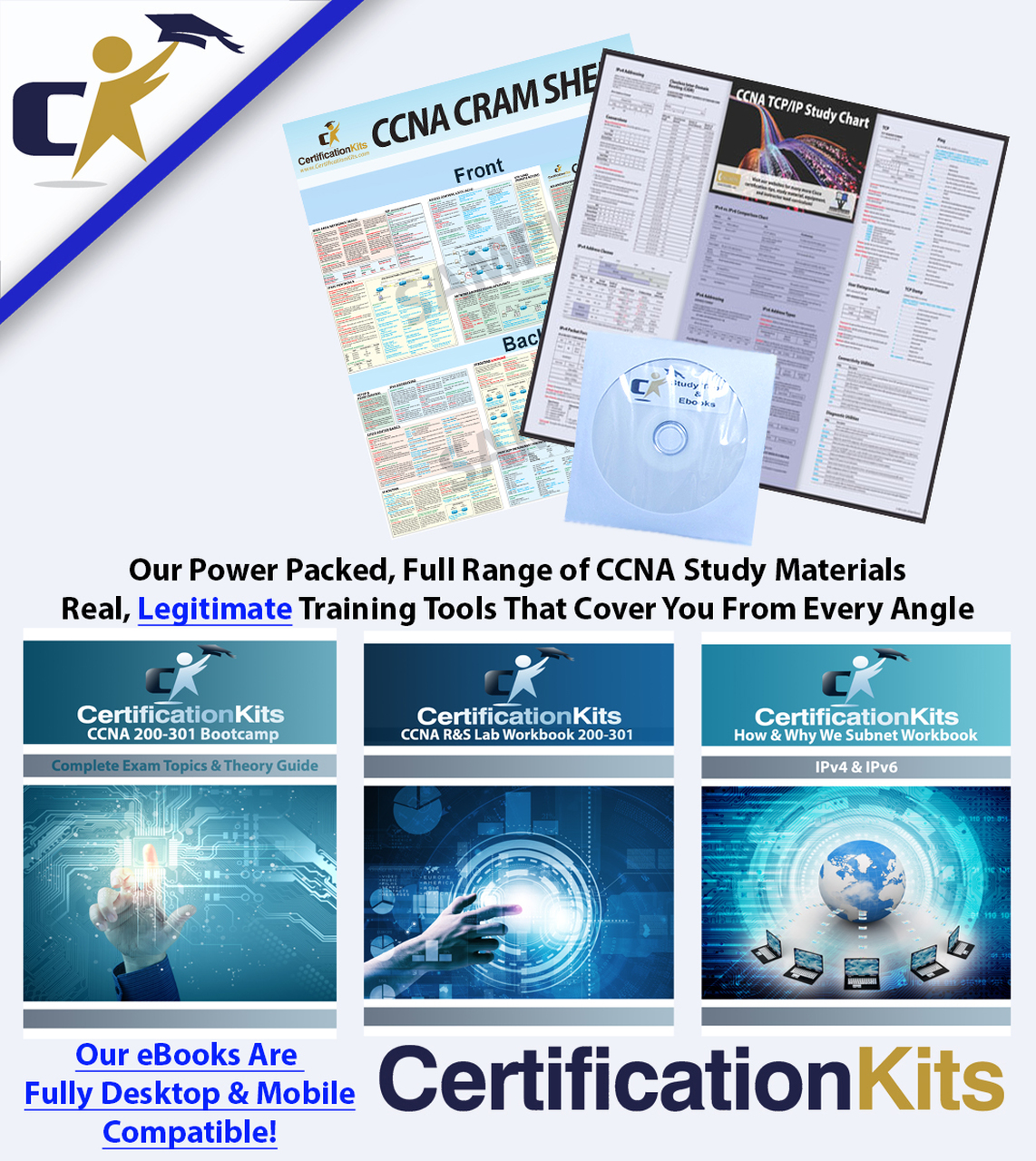 If you are an international candidate and want to avoid shipping costs and potential import taxes, we also offer a fully digital version of our training materials with out CCNA 200-301 Digital Essentials Bundle which includes our How & Why We Subnet Workbook with its brand new section specifically on IPv6 Subnetting, our Complete Exam Topic and Theory Guide, AND our Complete Lab Workbook, all updated for the most recent changes to the CCNA 200-301 exam.  Even better our digital study materials are all desktop and mobile capable, across all platforms!  We have provided only the best training materials available for 20+ years with a proven track record.  With 1000s of individuals that have earned their certifications using our training materials, we know that you will love them and that you will be successful!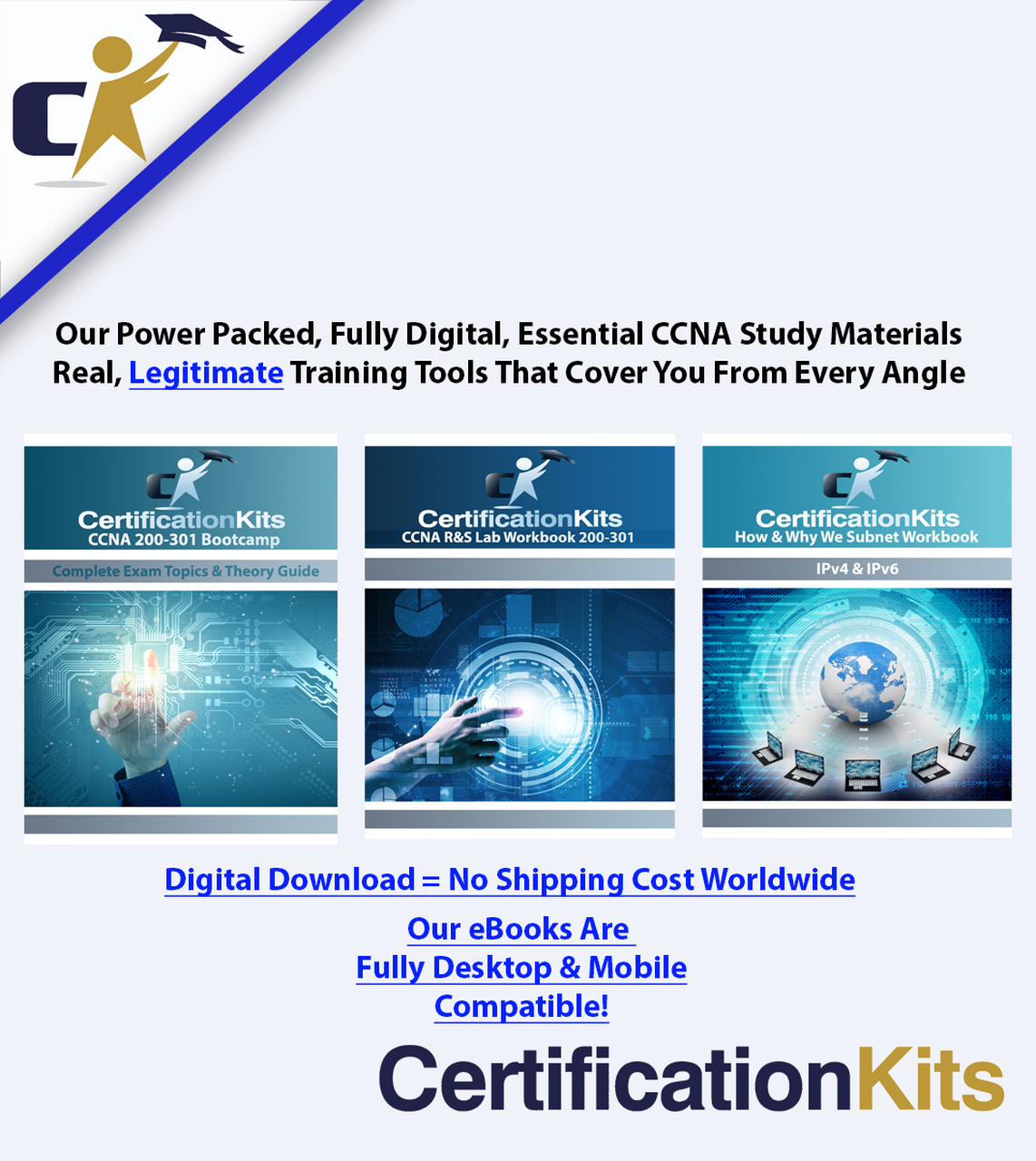 Don't forget to like and share on social media!
Cisco CCNA Access Control Lists Part I
Cisco CCNA Access Control Lists Part II
Cisco CCNA Access Control Lists Part III
Cisco CCNA Access Control Lists Part IV
Cisco CCNA Advanced IOS Management Part I
Cisco CCNA Advanced IOS Management Part II
Cisco CCNA Advanced TCP/IP and Subnetting Part I
Cisco CCNA Advanced TCP/IP and Subnetting Part II
Cisco CCNA Automation and Programmability
Cisco CCNA Basic IP Routing Part I
Cisco CCNA Basic IP Routing Part II
Cisco CCNA Configuring Router Interfaces
Cisco CCNA Dynamic Routing Part I
Cisco CCNA Dynamic Routing Part II
Cisco CCNA Ethernet Technologies Part I
Cisco CCNA Ethernet Technologies Part II
Cisco CCNA Exploring Networking
Cisco CCNA Introduction To Security
Cisco CCNA Introduction To Switches Part I
Cisco CCNA Introduction To Switches Part II
Cisco CCNA IOS, CLI, And Admin Functions Part I
Cisco CCNA IOS, CLI, and Admin Functions Part II
Cisco CCNA IOS, CLI, and Admin Functions Part III
Cisco CCNA IP Addressing and Subnetting Part I
Cisco CCNA IP Addressing and Subnetting Part II
Cisco CCNA IP Addressing and Subnetting Part III
Cisco CCNA IP Addressing and Subnetting Part IV
Cisco CCNA IP Addressing and Subnetting Part V
Cisco CCNA Network Address Translation Part I
Cisco CCNA Network Address Translation Part II
Cisco CCNA Network Services and Troubleshooting Tools Part I
Cisco CCNA Network Services and Troubleshooting Tools Part II
Cisco CCNA Spanning Tree Protocol Part I
Cisco CCNA Spanning Tere Protocol Part II
Cisco CCNA Troubleshooting CPU
Cisco CCNA Troubleshooting HSRP
Cisco CCNA Troubleshooting Memory
Cisco CCNA Troubleshooting Methodology and Tools
Cisco CCNA Troubleshooting OSPF
Cisco CCNA Troubleshooting Switch Performance
Cisco CCNA Troubleshooting Switches Introduction
Cisco CCNA Troubleshooting Switching Features
Cisco CCNA Troubleshooting Switching Types
Cisco CCNA Troubleshooting VLANs and Trunks
Cisco CCNA Virtual LANs (VLANs) Part I
Cisco CCNA Virtual LANs (VLANs) Part II
Cisco CCNA VLSM and Summarization Part I
Cisco CCNA VLSM and Summarization Part II
Cisco CCNA Wide Area Networks (WANs) Part I
Cisco CCNA Wide Area Networks (WANs) Part II