Cisco CCNA Early Solutions Utilizing Transparent bridges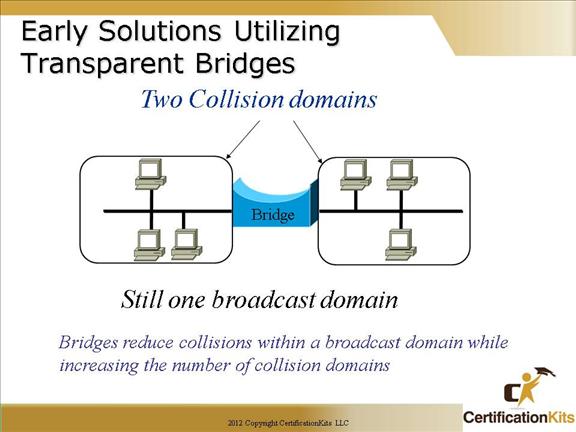 Prior to switches, bridges were utilized to segment networks and reduce the number of hosts within a collision domain.  Bridges read each frame as it passes through the network.
The layer-2 device then puts the source hardware address in a filter table and keeps track of which port the frame was received on.
This information (logged in the bridge's or switch's filter table) is what helps the machine determine the location of the specific sending device.
Cisco CCNA Switch (Multi-Port Bridge)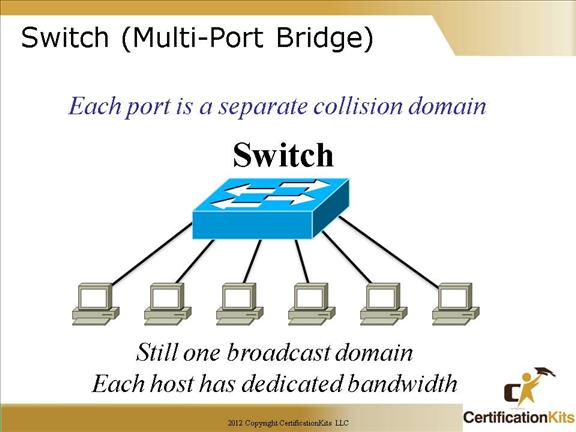 Ethernet switches are used to create a physical star topology.  This means that the network is physically connected in the center, as shown in the diagram on the slide.
The logical bus means the signal must run from the beginning of a network segment to the end, and everyone on that segment must listen to the signal on the bus.
Switches break up these segments into smaller logical bus's.
Cisco CCNA Bridging vs LAN Switching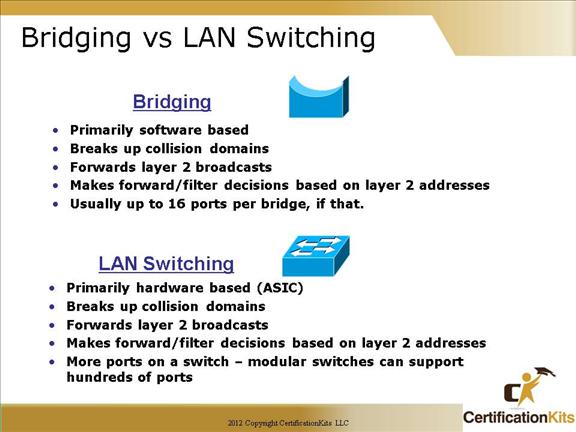 It's true—layer-2 switches really are pretty much just bridges that give us a bunch more ports, but there are some important differences you should always keep in mind:
Bridges are software based, while switches are hardware based because they use ASIC chips to help make filtering decisions.
Think of a switch as a multiport bridge
Bridges can only have one spanning-tree instance per bridge, while switches can have many. (I'm going to tell you all about spanning trees in a bit.)
Switches have a higher number of ports than most bridges.
Both bridges and switches forward layer-2 broadcasts.
Bridges and switches learn MAC addresses by examining the source address of each frame received.
Both bridges and switches make forwarding decisions based on layer-2 addresses.
Cisco CCNA Ethernet Media and Connections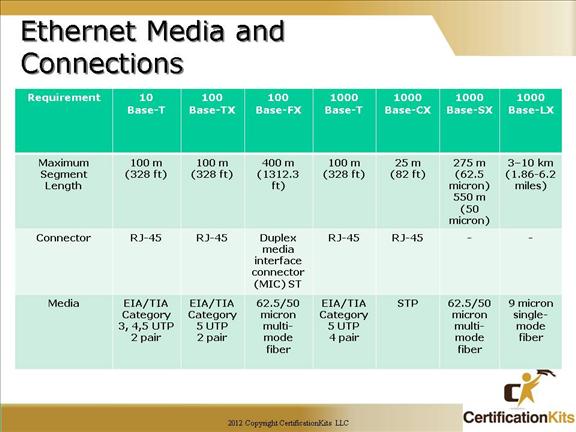 This slide show just some of the ethernet standards.  It is not a complete list.  Ethernet standards are ever changing as ethernet speeds increase (i.e 10 gigabit and beyond).
Cisco CCNA RJ-45 Wiring and CAT 5 Cables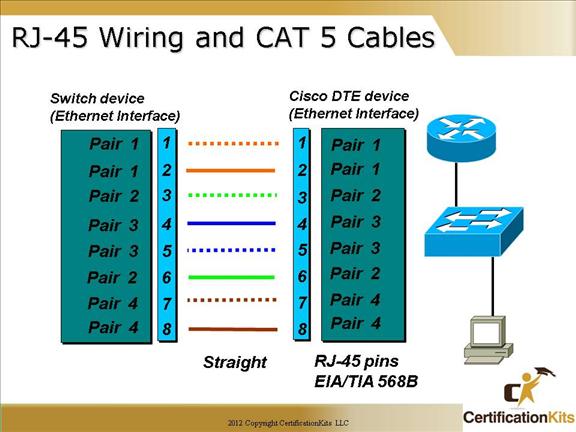 This type of Ethernet cable is used to connect:
-Host to switch or hub
-Router to switch or hub
Four wires are used in straight-through cable (pins 1, 2, 3 and 6) to connect Ethernet devices. It is relatively simple to create this type of cable.
Pin Functions:
1  Transmit+
2  Transmit –
3  Receive +
4  Unused
5  Unused
6  Receive –
7  Unused
8  Unused
Cisco CCNA RJ-45 Wiring and CAT 5 Cables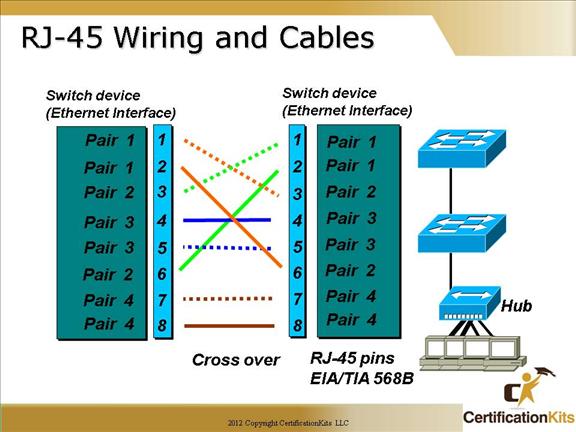 This type of Ethernet cable can be used to connect:
-Switch to switch
-Hub to hub
-Host to host
The same four wires are used in this cable as in the straight-through cable (1, 2, 3 and 6), but we just connect different pins together.
Pin 1 connects to pin 3 and pin 2 connects to pin 6 in a cross over cable.
Pin Functions:
1  Transmit+
2  Transmit –
3  Receive +
4  Unused
5  Unused
6  Receive –
7  Unused
8  Unused
Cisco CCNA Connecting Switches together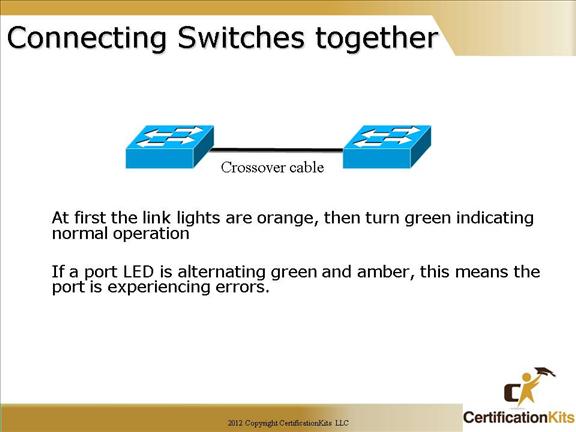 You would use a crossover cable to connect switches together.
If 802.1D Spanning-Tree Protocol (STP), which is covered later in this course, is enabled then the link lights between the switches will turn orange for approximately 50 seconds when initially connected while STP converges.
Cisco CCNA Console Cables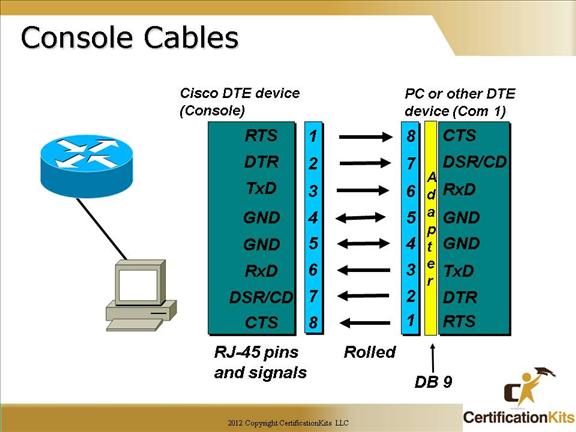 Although this type isn't used to connect any Ethernet connections together, you can use a rolled Ethernet cable to connect a host to a router console serial communication (com) port.
If you have a Cisco router or switch, you would use this cable to connect your PC running HyperTerminal or another terminal emulation program to the Cisco hardware. Eight wires are used in this cable to connect serial devices.
As you can see, Cisco console cables are rolled cables where pin 1 maps to pin 8, pin 2 maps to pin 7 and so on.