Apart from standard functions of legacy telephony systems such as call receiving and making, hold, transfer,  redial, directory access and so on used by organizations, the new age IP based voice messaging systems offer a wider band of services to fulfill requirements of different industry verticals such as handling credit card payments, banking customer support, telephone surveys etc.
Before we go in depth of understanding the functions of these applications, we first need to understand what these applications facilitate, why they are needed?
Auto Attendant – or AA allows callers to be automatically transferred to an extension without the intervention of an operator, sometimes call can be transferred to other responses also such as transfer to voicemail, play message, go to sub menus, and repeat choices.  The most common example of this is bank customer care lines.  When you dial in for support, you are presented with a number of options / choices.
Figure 1: Auto attendant setup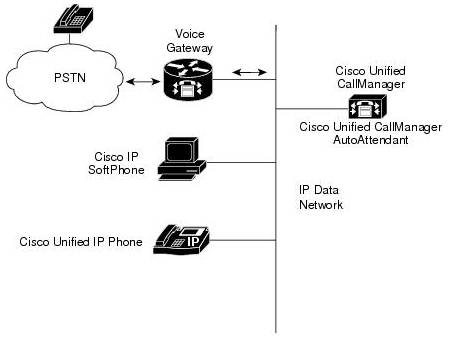 Interactive Voice Responses (IVR) – use a more sophisticated technology and have speech recognition capabilities built in.  This kind of feature is commonly used telecommunication or auto mobile industry.  IVR systems facilitate users to access a company's database via telephone or touchtone keypad or by speech recognition to service their own enquiries following the instructions given by IVR pre-recorded or dynamically generated audio to direct users on how to proceed.  Such as on case of customer care numbers of banks where customers call in for telebanking support.  Customers need to provide information to verify your identity, you can route your call anytime by pressing a predefined number on the dial pad to reach the operator.
Figure 2: Cisco IVR setup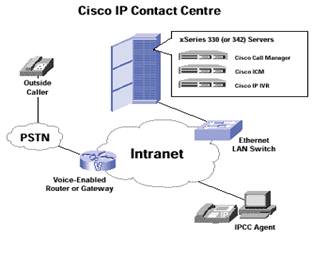 IVR is commonly used in mobile, telebanking, mobile purchases (ringtones etc), order placements (credit card payments), airline (ticket booking, flight arrivals, departures, check in) etc.  IVR system interacts with a caller using many dynamically generate content, such as the balance on a bank account, flight information etc.  In order to have the information played back to the caller seeking for help or information, the text information will be converted to voice/speech by a text-to-speech engine.
Cisco Unity product lines support auto attendant application through IVR.  Cisco Unity software is very efficient IVR system but for a complete true IVR one can look at Cisco IP IVR software.  Cisco IVR is written in Java and it supports two integration methods – HTTP and Java.  With HTTP, an Internet protocol for the World Wide Web, the system can easily connect to any website.  For other applications, any program written in Java can be easily integrated with a Cisco IVR application.  An IVR system can be integrated to CRM (customer relationship management) system to enable agents to access customer specific information on inbound/ outbound calls.
Cisco IP IVR software unlike traditional legacy PSTN circuit based IVR applications enables web based content access and integration with HTTP websites.  It permits integration with databases and input to user response either with an email or sms message.
This concludes the function and role of auto attendant and IVRs in a VOIP environment for our CCNA Voice readers.  This lesson will help them to understand how IVR and auto attendants work in a converged voice network and how they are used in business environments.  In the next CCNA Voice topic we will cover and understand the functionality of contact centers.