Cisco simplified the management of its Smart Business Communication System suite by designing a management interface which is GUI based and eases the customization of any preconfigured system parameters. The CCA is aware of the presence of SBCS and poll a new system to decide which of the components are applied to the specific setup. It has drag and drop feature for software updates, having built in system management graphs and charts, and enables click on configuration functionality. It is a window based application available free from Cisco website and used for provisioning, maintenance and monitoring in SBCS suite.
To install CCA tool certain prerequisites need to be meet as follows:
Processor speed 1 GHz, DRAM 512 MB minimum and 1024 MB recommended
Hard disk space 150 MB for CCA recommended is 300 MB
Number of colors 65,536, Resolution 1024*768 and Font size – small
Windows version – windows XP SP1 or later or windows vista ultimate
This tool allows control of the following on SBCS devices:
Switching
Telephony
Wireless
Security
Network services
Internet connectivity
This tool provides a network map view, showing devices discovered in the system, as well as front panel view of the SBCS system, shows ports and their status. The CCA also permits drag and drop upgrade of IOS software, phone firmware and language files.
Before managing SBCS, CCA first need to be aware of what devices are there and how the suit is set up. So the very first time when CCA is launched it presents a window and dialog box as illustrated in figure 1 below.
Figure 1: CCA interface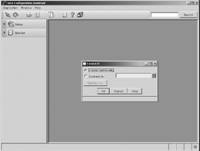 It will ask for a community. A CCA community is a suite of SBCS devices which provide UC solution to a particular location. The community components would be – UC520 chassis, Cisco catalyst express 520 series switches, several IP phones and other SBCS suite components such as Cisco wireless express 521 AP. This community is managed using a common console and configuration, management and monitoring is done as a single group instead of managing devices in isolation. Community device configurations are saved as a package and it can be upgraded/patched as a group. Error notification and network monitoring is integrated with the CCA. To be member of community a device must have: an IP address, supported by CCA tool, HTTP or HTTPS enabled on default ports. The combined number of following device types in a community cannot exceed 25.
Catalyst express switches
800 series routers
UC 500 series platforms (UC520)
WLAN controllers
Aironet autonomous APs
HWIC access points
In addition to this there are some other restrictions also:
15 out of 25 is the maximum number of catalyst express switches
800 + series routers plus UC500 series platforms max – 5
Two WLAN controllers
Sum of Autonomous APs and HWIC APs = 3
To create communities follow the following steps:
Step 1: Select the create community radio button in connect dialog box and click OK.
Step 2: In create community window as shown in figure 2 enter name for new community and company name (optional). Click the Discover drop down arrow and choose devices using a seed IP address. Enter default IP address of the UC520 and click Start.
Figure 2: Create community window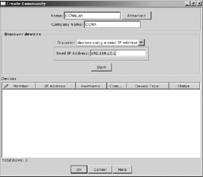 Step 3: A security certificate will appear, click Always.
Step 4: The CCA discovery process will ask for UC520 authentication credentials. Default user name and password is Cisco. Click Ok.
Step 5: CCA will go through discovery process with CDP and identify devices in CCA community. When discovery is complete click OK. CCA tool will present the topology view of discovered network.
The CCA toolbar comprises of following components / options:
Connect – opens the connect window, where we identify what is to be managed with the CCA
Refresh – refresh view of the configuration assistant by requerying community members.
Preferences – used to set user preferences
Save configuration – save changes made to device configuration
Voice – used to configure UC520 for voice.
Smartports – used to configure ports and devices by assigning roles.
Health – monitor devices for health measurement
Event notification – displays network conditions
Front panel view – devices managed in the community view
Topology view – topology view of devices community
Help – to access help
One major component of CCA interface is feature bar, the five main menus of feature bar are as follows:
Setup – do basic configuration for the members of SBCS family and enable them to manage by CCA
Configure – manage individual ports and devices
Monitor – monitor utilization and health of system
Troubleshooting – basic system troubleshooting
Maintain – perform basic system maintenance within SBCS suite.
In CCA tools several macros are interwoven that walk through the process of provisioning devices in an SBCS community. Cisco Smart macros in the SBCS suite is the macro implemented in the voice dialog box.
CCA tool is designed to maintain SBCS suites and perform following tasks:
Upgrade software within suite
Manage file systems
Backup / restore suit component configurations
Restart / reset devices
This concludes the lesson on usage and functionality of Cisco configuration assistant tool which is used to manage SBCS suite of applications.  We hope you enjoyed this CCNA Voice topic.