In preparation of our CCNA exam, we want to make sure we cover the various concepts that we could see on our Cisco CCNA exam. So to assist you, below we will discuss VLAN Operation.
---
VLAN Operation Overview
The virtual LAN (VLAN) allows you to group physically separate users into the same broadcast domain. The use of VLANs improves security, segmentation, and flexibility. The use of VLANs also decreases the cost of arranging users, because no extra cabling is required.
VLAN Characteristics
VLANs allow an administrator to define user groups logically rather than by their physical locations. For example, you can arrange user groups such as accounting, engineering, and finance rather than grouping everyone on the first floor, everyone on the second floor, and so on.
| | |
| --- | --- |
|   | VLANs define broadcast domains that can span multiple LAN segments. |
|   | VLAN segmentation is not bound by the physical location of users. |
|   | Each switch port can be assigned to only one VLAN. |
|   | Ports not assigned to the same VLAN do not share broadcasts, improving network performance. |
|   | A VLAN can exist on one switch or on multiple switches. |
|   | VLANs can connect across wide-area networks (WANs). The figure shows a VLAN design. VLANs are defined by user functions rather than locations. |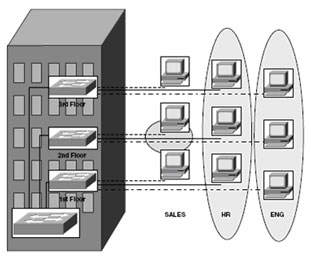 VLAN Operation
Each VLAN on a switch behaves as if it were a separate physical bridge. The switch forwards packets (including unicasts, multicasts, and broadcasts) only to ports assigned to the same VLAN from which it originated. This reduces on network traffic. VLANs require a trunk to span multiple switches. Each trunk can carry traffic for multiple VLANs.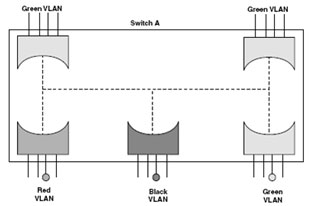 VLAN Assignment
A port can be assigned (configured) to a given VLAN. VLAN membership can be designated as either static or dynamic:
| | |
| --- | --- |
|   | Static assignment-The VLAN port is statically configured by an administrator. |
|   | Dynamic assignment-The switch uses a VMPS (VLAN Membership Policy Server). The VMPS is a database that maps MAC addresses to VLANs. A port can belong to only one VLAN at a time. Multiple hosts can exist on a single port only if they are all assigned to the same VLAN. |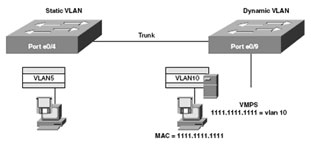 Inter-Switch Link
Inter-Switch Link (ISL) is a Cisco-proprietary protocol designed to carry VLAN traffic between switches. ISL provides point-to-point links in fullduplex or half-duplex mode. ISL is performed with ASICs, which operate at wire speeds and let VLANs span the backbone.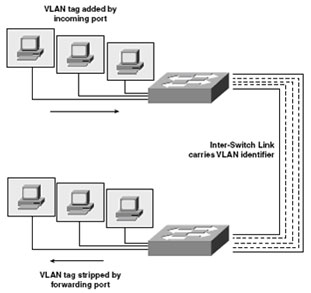 ISL Tagging
ISL frame tagging multiplexes VLAN traffic onto a single physical path. It is used for connections between switches, routers, and network interface cards. A non-ISL-capable device treats ISL encapsulated Ethernet frames as protocol errors if the frame size exceeds the maximum transmission unit (MTU). ISL tagging is a protocol-independent function that occurs at OSI Layer 2. ISL can maintain redundant links and can load-balance traffic.
ISL Encapsulation
ISL-enabled ports encapsulate each frame with a 26-byte ISL header and a 4-byte CRC. ASICs allow this to occur at wire speed (low latency). The number of VLANs supported depends on the switch. The Catalyst 1900 supports 64 VLANs with a separate spanningtree instance for each VLAN.

VLAN Operation Summary
| | |
| --- | --- |
|   | A VLAN is a broadcast domain that can span multiple physical LAN segments. |
|   | VLANs improve performance, flexibility, and security by restricting broadcasts. |
|   | VLANs only forward data to ports assigned to the same VLAN. |
|   | VLAN ports can be assigned either statically or dynamically. |
|   | ISL is a Cisco-proprietary protocol used to share and manage VLAN information across switches. |
|   | ISL trunks encapsulate frames with an ISL header CRC. |
Continue to the Configuring a VLAN Article
We hope you found this Cisco certification article helpful. We pride ourselves on not only providing top notch Cisco CCNA exam information, but also providing you with the real world Cisco CCNA skills to advance in your networking career.