Here at CertificationKits we are proud to announce we have just released our new Cisco CCNA 200-120 practice exam simulator.  You can download a trial of our CCNA Practice exam here.  We are really happy with the improvements we have been able to incorporate into the new version of this CCNA Test Engine.  As Cisco has made the CCENT and CCNA exams more difficult, we are keeping pace by increasing the difficulty level of our CCNA exam questions.  In our practice version of the CCNA exam you get much more than simple multiple choice questions.  Your Cisco skills will be challenged with many scenario questions in which you need to refer to network topology diagrams along with Cisco router and Cisco switch output.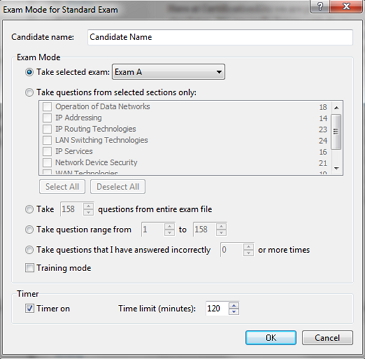 CCNA Practice Exam Options
Let's take a quick look at some of the options we have available for us in our CCNA 200-120 practice exam simulator.  First we have the option to pick from the three predefined exam banks.  We customized each of these three CCNA exam banks with the right balance of questions from each section of the Cisco exam objectives to make it as realistic as possible.  So it make it easy for you, you can simply pick one of the three exam banks and begin your studies.  On the official Cisco exam, you will get between 50 and 60 questions.  So that is also what you will receive in each of our predefined CCNA exam banks.  We do suggest you change the default time allotted of 120 minutes to 90 minutes to make it a more realistic exam experience.
Now we understand that as you go deeper into your studies you may want to simply focus on a particular subject like Switching.  In that case you can simply select a section like the LAN Switching Technology option and enter the number of questions on that topic that you desire.  You will notice that our exam sections map directly to the Cisco CCNA sections to help narrowing your focus of study as easy as possible.
If you select the option for Training mode, you will not have the option to view the correct answer during your practice exam.  So use that option as appropriate.  Now let's take a look at a sample question from our CCNA exam simulator.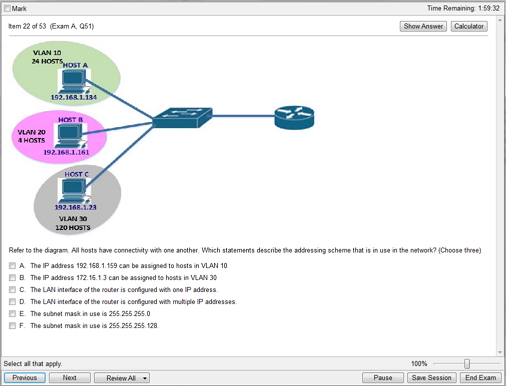 CCNA Practice Exam
Notice the advanced features that we have in our CCNA practice exam.  You have the ability to Mark questions for review later and the ability to Show Answer to review the question and answer if you are really stumped.  Now here is where our CCNA exam simulator really shines.  Instead of simply telling you what the right answer is; we tell you why the correct answer is right and explain why all the wrong answers are wrong!  This way you can figure out what you were misinterpreting about the option you may have selected incorrectly.  This is key in helping you understand what concepts you don't really understand that you think you do.
Another nice feature of our new CCNA practice exam is if you are interrupted you can also Pause the exam and Save Session for review later.  Then as you complete the exam you are able to save your results under your profile to review later.  This is a great feature if you are just burnt out taking a practice exam and you want to come back later when you are refreshed to dive back into them in great detail.   Finally when you are complete with the exam, you can print out the test as sometimes you don't just want to stare at a computer screen anymore.
So if you like what you see, you can purchase the full version of our CCNA practice exam simulator here! It also comes with an electronic CCNA flash card generator and 20 instructional CCNA videos for the low price of $49.99.  Compare that to the cost of many other CCNA exam simulators like Transcender's CCNA exam simulator for $199 or even MeasureUp's CCNA exam simulator for $99 and we think you will find this to be a great bargain!