Are you in the IT field as an entry level help desk associate or a junior LAN administrator and you want to work your way up the corporate ladder to a better paying job?  You already have your CompTIA A+ or one of the lower level Microsoft certifications and you are wondering how do you get to the next tier and what skills do you need to make that next jump?  Most network professionals will probably tell you that now that you have a basic understanding of the interface of how computers work, now you need to learn how the traffic on the network is managed and how it really works!
So that leads us to the one of the most widely respected IT certifications out there, the Cisco Certified Network Associate or CCNA.  CCNAs are given the task to setup, configure and administer corporate networks and since every company has a network, there is a huge demand for those who really know hardcore CCNA networking.  You will learn the ins and outs of how traffic really moves across the network and how to sculpt it to be efficient and super-fast for your users while not wasting precious bandwidth.
So you may be asking, what is the outlook for CCNA certified associates and what are they making now?  Well, what would you say if I told you that the salary range for a CCNA according to a recent survey was from $39,000 to $119,000?  You would be shocked as well as I was!
So, let's take a look at a couple of data points and also try to dissect a little more of the information which is being provided.  The survey sample was from just over 8,000 associates.  The first problem I see with the survey below is we have a really wide range of skill sets.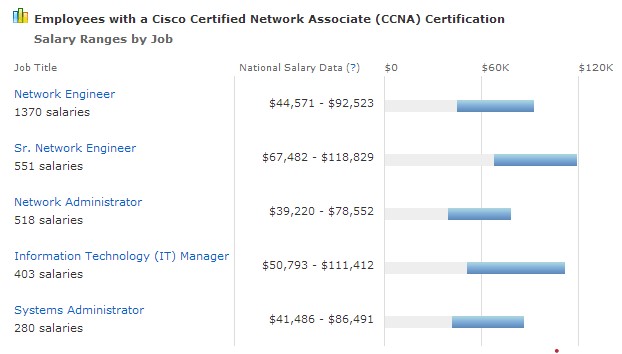 CCNA Salary
As you see from the chart above, we are talking about five different job titles that all have the CCNA certification as a requirement.   So since this article is really focused on how you can further your career and increase your salary, let's simply drop the top end of this salary survey for the IT Manager, Sr. Network Engineer, the Network Engineer which will leave us with probably the two valid stepping stone positions once your graduate from the Help Desk which are Network Administrator and/or Systems Administrator.  So that gives us a realistic salary range of $39,200 to $86,491 which is more in line with what I see at the Fortune 500 Company I work for.
That is great information on what a CCNA associate can make in salary, but does not really tell you how much more the CCNA certificate which will allow you to break into the Network Administrator position is worth over a basic Help Desk job.  So let's take a look at another salary survey to determine the true value of the CCNA certification.  Here is the salary survey for CompTia A+ certified Technology Specialists and Support Technicians.


A+ Salary
As you can see from the chart, the range for both starts in the mid $29,000 range and then goes up to roughly $70K depending on experience.  But that gives us what we really need to do a fair comparison.  For the most part an associate breaking into IT with simply an A+ certification will make let's call it $30K in salary.  Whereas a CCNA is going to start at around $40K in salary.  So that equates to roughly a 25% increase in salary to start with and then a career path that can grow to $100K+ as you progress and gather other Cisco certifications.  That seems pretty sweet to me!