Are you curious how high tech the NSA (National Security Agency) factory was for installing their backdoor implants into Cisco and other company routers, switches, firewalls and the such?  Well from the looks of the recent photos released from the book No Place to Hide by Glenn Greenwald, not too much.  I am sure there was lots of cool undercover surveillance tools and alike around, but it seems like a pretty basic tech area to me.
So the first picture here shows four NSA employees working to carefully open a Cisco device to prepare it for the installation of the NSA backdoor exploit.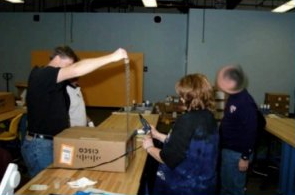 NSA Cisco Intercept
What you can read about the process is the backdoor exploits or Trojans that were installed in the various routers, switches, severs and other networking equipment were extremely effective.  It gave the NSA the ability to have a hook into an organization that was targeted for surveillance and it could be turned on at will be help with the Remote Operations Center (S321).
So here is how it would work if you have not heard about it and here is a link to our original article on it.  The surveillance target organization would place an order in this scenario for a Cisco router, switch or the like (Cisco, Juniper, Huawei, Dell, HP and many other manufacturers were impacted.  Somehow in the shipping process the equipment was intercepted.  That makes one wonder if UPS, FedEx and the alike were somehow involved as you would think the tracking would show some sort of blip.  So I will be interested exactly how the NSA knew what was being ordered, when it would ship and be able to covertly coordinate the interception of the device.
But anyway… once the device was secured by a NSA employee, they would redirect the device to their Tailored Access Operations/Access Operations (AO-S326) group which was at a highly classified location so they could begin their magic.  They then would engage the Remote Operations Center (S321) team to have them perform the backdoor Trojan plant.  The backdoor Trojan plant was done at a pretty basic looking technician workstation/desk as shown below.  You can see the Cisco device attached and being "upgraded" at what was called a load station.   The Cisco ASA and PIX device upgrade was codenamed JETPLOW.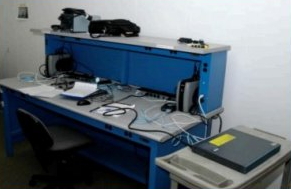 NSA Cisco "Upgrade"
Now I am not going to get into my feelings on the subject as I don't think this is the correct forum for such.  I just find it really interesting and it should open everyone's eyes to the power and knowledge you can obtain by really understanding how to manage and sculpt data.  There is a huge demand for people who really know their stuff from a programming to network management and security perspective. If you really think about it we are in the infancy of the data and technology age.  I can't wait to see what is developed over the next 50 years of my lifetime.